Announcing the "I Love my Free iPad Giveaway" contest.
An exciting new giveaway designed exclusively for Specialty Toys Network members!
---
Kicking off with Toy Fair 2011, we're giving away Apple iPads!
---
 We'll buy the iPads
 We've created the giveaway registration system
 We'll supply you with free promotional materials

 You will get the credit for the giveaway
 You will get a list of all the registered entrees who signup on your site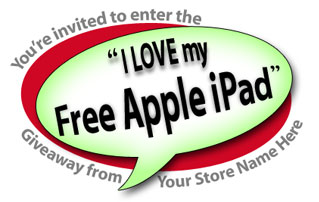 WHY:
This giveaway is designed to: a) drive new customers to your website, b) increase awareness and participation in the STN Master Product Database (for industry manufacturers), c) reward your existing customers for their patronage at your store, and d) reward you for being a valued Specialty Toys Network member.
HOW:
Encourage your vendors to signup for the giveaway. During Toy Fair, the main goal of the contest will be to give toy manufacturers an extra incentive to get their product data to Specialty Toys Network… so we in turn can get it processed and added to the main database for you.
Through May 1st, the drawing will be also available for all public registration. Your existing customers – and any other visitors to your site – can register to win an iPad.
At the end of the contest, 1 iPad will given away in a random drawing from all entries. This could be one of your vendors or customers.
View complete contest rules .
BONUS!:
For each person who enters the regular drawing as your referral, you will get a "referral entry".  At the end of the contest, another iPad will be given away in a second drawing just for STN members.  This could be you.
AND, at the end of the contest, we will send you a report with all the names & email addresses of people who requested to be added to your email list.
YOUR PROMO KIT:
Specialty Toys Network will be promoting this giveaway throughout the duration of the contest. We've also created special promotional materials to allow you to promote the giveaway at Toy Fair, on your website, and in your store. Simple let us know you want to be included in this giveaway, and we'll provide you with a promo kit, including:
 Contest buttons with a barcode just for smart phones (and a web address for everyone)
 A special URL that will send users to your website after registration
 Promo Banners for your website
 In-store contest signage

HOW TO GET THE MOST OUT OF THIS FREE STN PROGRAM:
 Visit ilovemyfreeipad.com/enter/barstonschildsplay to see the entry form in action
 Let us know you want to be included
 Promote the contest (& reap the rewards)
---
---
Thanks as always for your STN Membership