Written by David Schreiber, Uncle Skunkle Toys
Disasters, like ones that took place in Haiti, are a reminder of our own fragility and that of the world around us. They also remind us how easily we can extend help to those in need. And using your company for a philanthropic endeavor is rewarding in many different ways. Here's an example of how one toy manufacturer is making a difference, and how you can do the same.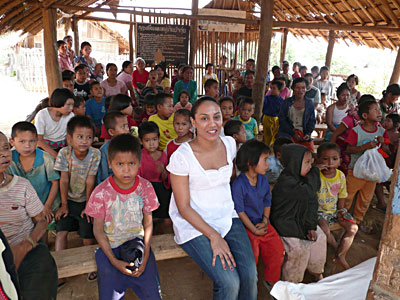 Uncle Skunkle Toys, a game manufacturer in Oregon that has built its company around the goal of continually giving back to the community and creating economic opportunity, empowers women affected by the HIV/AIDS epidemic in Thailand through its Bambooga Project. Teaming up with the Kids Ark Foundation, Uncle Skunkle Toys created the social entrepreneurship program to allow Thai women with HIV/AIDS to earn an income and gain valuable work skills by sewing the fabric components for the game Bambooga. Portions of the proceeds from the sale of the game also go to the Kids Ark Foundation to improve living conditions in the community and fund education projects.
Opportunities to tie your business with organizations that work for social good are abundant. Micro loans are a great way for small businesses, such as toy store owners and manufacturers, to create and support other small businesses across the world. For a small loan of around $25-$100, you can help an entrepreneur start their own business, and you will receive your money back. If you want the money collected to support members of the local community, contact your Chamber of Commerce for listings and information on charities in your area.
Before giving any money or committing to any organization, first do some basic research. Look for a charity that can show it has reasonable administrative costs—so you know the majority of your gift will go directly to aid. Also make sure it's one that will draw support and participation from your customers. After deciding on a foundation or organization, determine the best way to implement a charitable contribution. Are you going to offer a one-time event, or a continuous campaign? Consult with the organization and/or other businesses in your area to determine the best ways to maximize donations, impact and exposure.
Linking your business with organizations and foundations that promote the common good is a powerful way to strengthen and solidify your company's visibility in the community. Whether you reach out to your local area or across the globe, the impact you can make is enormous.
---
To read more about Kids Ark Foundation, the Bambooga Program, and Uncle Skunkle's involvement please follow these links.
For more information on micro loans and other charities please follow these links.
http://www.worldvisionmicro.org/?campaign=1209242&cmp=KNC-1209242
http://www.charitynavigator.org/